We will have scheduled maintenance on May 17th from 5:00 - 6:00 am JST, during which the website will not be accessible. We apologize for the inconvenience.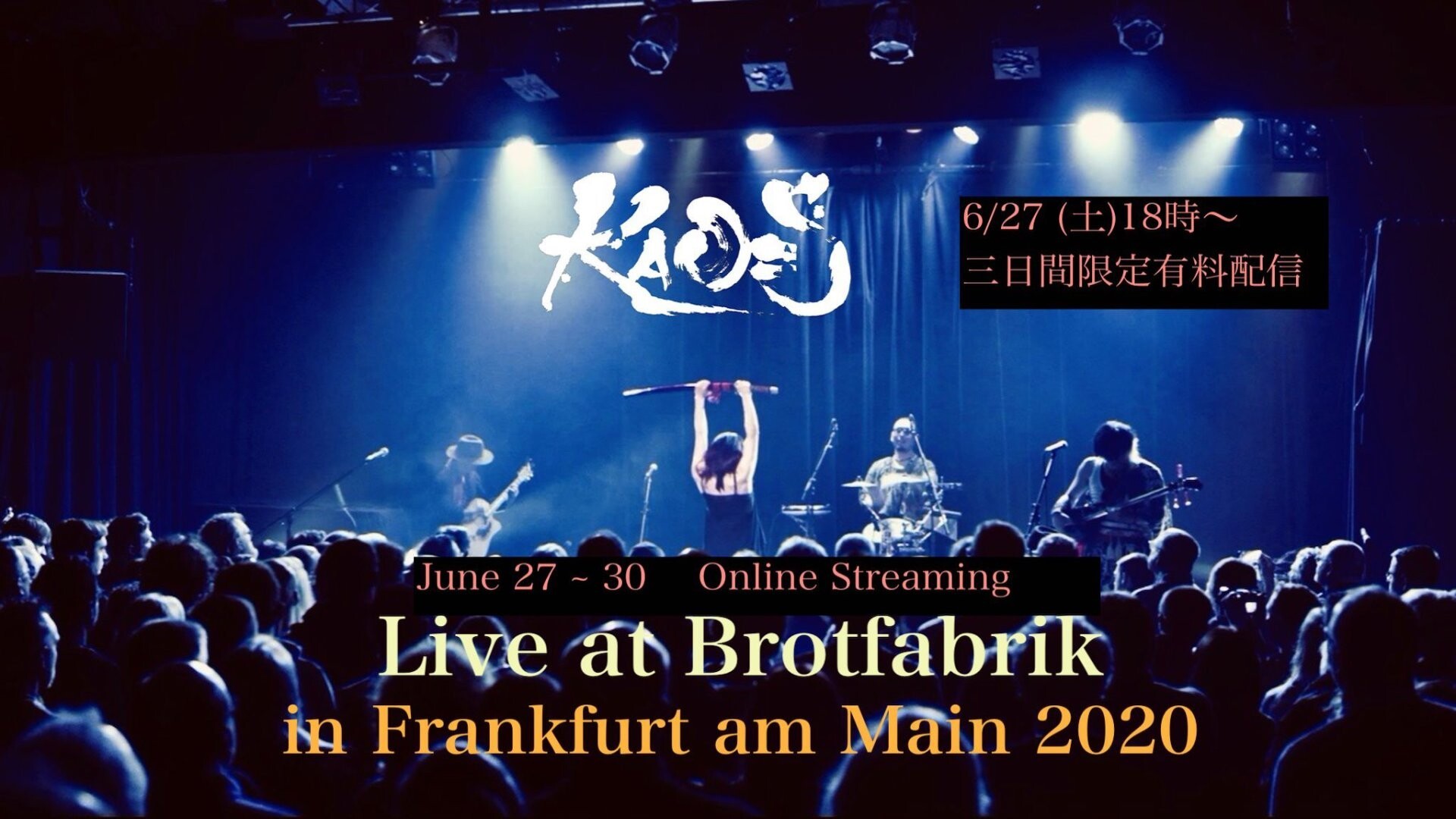 date_range 06.27 (Sat) 18:00 ⇨ 06.30 (Tue) 20:00
label

KAO=S

コンサート

KAO=S

バンド

ドイツ

ワンマン

フランクフルト

Frankfurt am Main

LIVE
ONLINE SHOW
KAO=S had their first solo concert at Brotfabrik in Frankfurt am Main on 25 Jan 2020. Please enjoy their original show.
<KAO=S Live at Brotfabrik in Frankfurt am Main on 25 Jan 2020> 
This movie includes all songs KAO=S played this night.

【members】
・Kaori Kawabuchi (Vocal/Sword Dance)
・Shuji Yamagiri (Acoustic Guitar/ Vocal)
・Shamirock Kamii (Tsugaru Shamisen) ※support player
・SAMMY (Percussions) ※support player


【Set List】

・OPENING 破邪剣舞 Haja Kenbu
・松明 Taimatsu
・地割れ Jiware
・舞夢 Maimu
・世界の朝 Sekai no Asa
・荒城の月 Kojoh no Tsuki 
・からくり迷楼 Kaeakuri Meirou (by Shamirock Kamii)
・CHAOS
・No Quarter
・桜の鬼 Ogre of the Cherry Tree
・旅の唄 Tabi no Uta
・幻 Maboroshi
・黒田節 Kuroda-Bushi
・結う Yu
・桜香る Sakura Kaoru



■Live Streaming:27 June 6:00PM ~ 8:00PM (Japan Local Time)
*The video is available for purchase until 8:00PM on 30 June (Japan Local Time)



■Ticket:1,500 Yen (JPN)
※ Fee will be charged separately.
※ Sales period: until 6:00PM on 30 June (Tue) (Japan Local Time)


・This performance will be available via online streaming only.

・After purchasing the ticket, refunds cannot be made for any reasons.

・Please be sure to review the system requirements and instructions for each streaming service platform before purchasing.

・We are not responsible for viewing or browsing problems caused by your Internet connection.

・Customers are responsible for all Internet access costs and landline costs. It is expected that the data usage will increase due to the live streaming performances. We recommend using a stable and high-speed internet connection (Wi-Fi etc) to enhance the quality of your viewing experience.

・You will not be able to playback while 6.27 Sat. 6:00pm ~ 8:00pm (Japan Local Time). After that, the video is available for purchase until 8:00pm on 6.30 Tue. (Japan Local Time)

The copyright of the video for live streaming distribution and recorded distribution belongs to D・I・O entertainment LLC. Viewers are not allowed to use or record any contents (video, image, audio , or other copyrighted materials) without permission from D・I・O entertainment LLC